PHUZSION EFFECT KAR KOMPANY INC.
NEW 1/8 Tamiya T3-01 Dancing Rider Trike Car Kit
Sale price
$200.73
Regular price
$355.28
🏁🚚FREE SHIPPING🚚🏁
Use: Vehicles & Remote Control Hobby Grade
Tool Supplies: Assembly Category
Model Number: 57405
Brand Name: Tamiya
Material: PLASTIC
Size: 10cm
This radio control model replicates delivery trikes widely seen making deliveries in Japan. When the model turns, the 3-wheel chassis "leans" into the corner much like their full-size counterparts. The 3-wheel chassis features the motor in the rear section, with the battery in the front. The two sections are linked in the middle, and a steering servo leans the entire front section left and right to effect turns. Furthermore, support arms are linked to the steering servo, and help to right the model if it happens to tip over. 

★Length: 260mm 
★Width: 135mm 
★Height: 175mm 
★Wheelbase: 196mm 
★Tread (Rear): 91mm 
★Tire Width/Diameter 21/61mm (Front), 25/59mm (Rear) 
★Monocoque Chassis 
★Rear-Wheel Drive 
★Planetary Differential Gear 
★Front Suspension: Telescopic Fork 
★Rear Suspension: Cam-Slide 
★Gear Ratio = 10.7:1 
★Requires: 2-channel radio, steering servo, Electronic Speed Controller, battery pack & charger (sold separately) 
★Type 370 Motor included 

Note: Battery pack size must be under 66x36x15mm 

Separately sold Item 51610 T3-01 Battery Case allows use of AA batteries to power the chassis.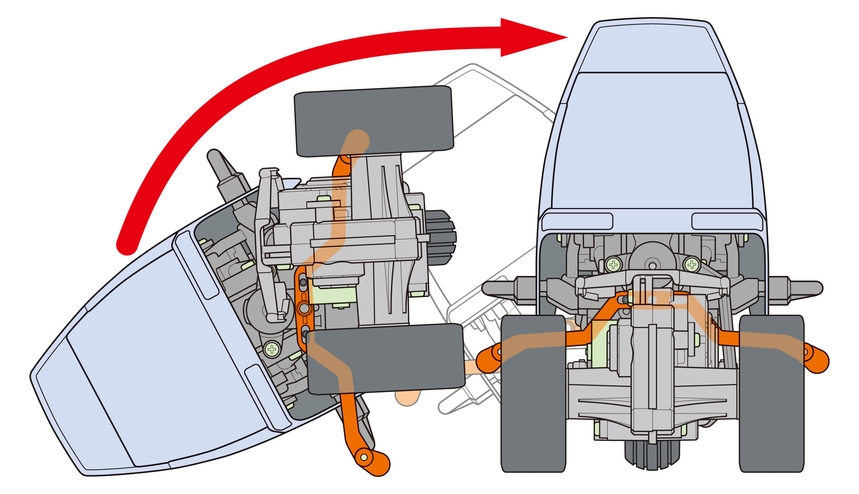 ---
More from this collection